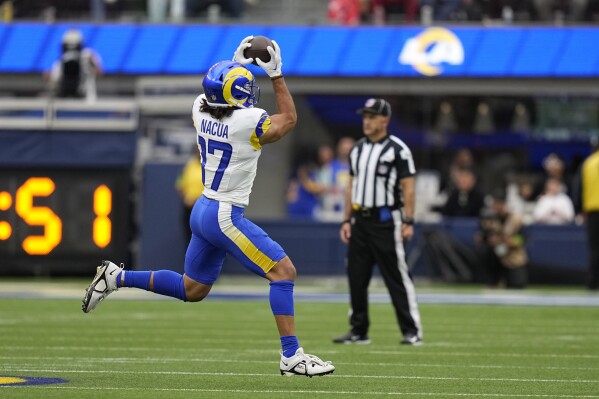 Rams' Secret Weapon Revealed: Puka Nacua's Insane Two Weeks
The Los Angeles Rams lost Cooper Kupp for the start of the season due to a hamstring injury. However, their passing game hasn't missed a beat, thanks in part to breakout rookie Puka Nacua.
In Week 1 against the Seahawks, the electric rookie recorded 10 catches for 119 yards on a team-high 15 targets. With the performance, Nacua became the fourth player in NFL history to have such a stat line in their first career game. He led the Rams to a dominant 30-13 victory over a tough division rival.
In Week 2, Nacua was even better. He had 15 receptions for 147 yards in the Rams' 30-23 loss to the San Francisco 49ers. He broke the NFL's single-game record for receptions by a rookie and is currently leading the league in receptions with 25.
The Utah native is currently second in the NFL in terms of receiving yards (266), only behind Justin Jefferson (309). However, he has yet to score his first career touchdown.
Though he was born in Utah, Nacua's family is from West Samoa. According to The Salt Lake Tribune, Nacua's grandmother immigrated to the United States from West Samoa with her only daughter, and later Nacua's mother, Penina, decades ago.
He attended Orem High School where he dominated the competition. Nacua was a touchdown-scoring machine in his junior and senior seasons. As a junior, he caught 87 catches for 1,692 yards, with 24 of those receptions going for touchdowns. Somehow, he got even better as a senior, hauling in 103 catches for 2,336 yards and 26 touchdowns.
He finished his career with 260 receptions for 5,226 yards and 58 touchdowns, still holding the top spot for career receiving yards and career touchdown receptions in state history. Nacua was a 2023 fifth-round draft in this most recent draft, recording 107 career catches for 1,749 yards and 14 touchdowns in four combined seasons at Washington and BYU, where he finished his career.
Nacua dominated at the Senior Bowl, attracting attention from many NFL scouts. Here is what Garrett said about him in his draft profile.
"All the tools are there for Nacua. His route running is very sharp with a nice route tree. He can stack up defensive backs and then break at the last second to create great separation. Nacua highpoints the ball very well. BYU ran a lot of jet sweeps for him, and he constantly crushed defenses. Very strong runner who will run through a defender. Love that. More than willing to go over the middle and give his body up to make the catch."
When he was selected, nobody thought he would become one of Matthew Stafford's favorite targets this quickly. When Kupp returns, the offense will become even more dynamic and explosive.
Not to mention, Tutu Atwell has emerged on the scene, hauling in 196 yards on 13 catches over two weeks. Watch out for this trio as the Rams look to bounce back after a disappointing 2022 season.
***
Subscribe to our YouTube!!
Check out our Merch!!