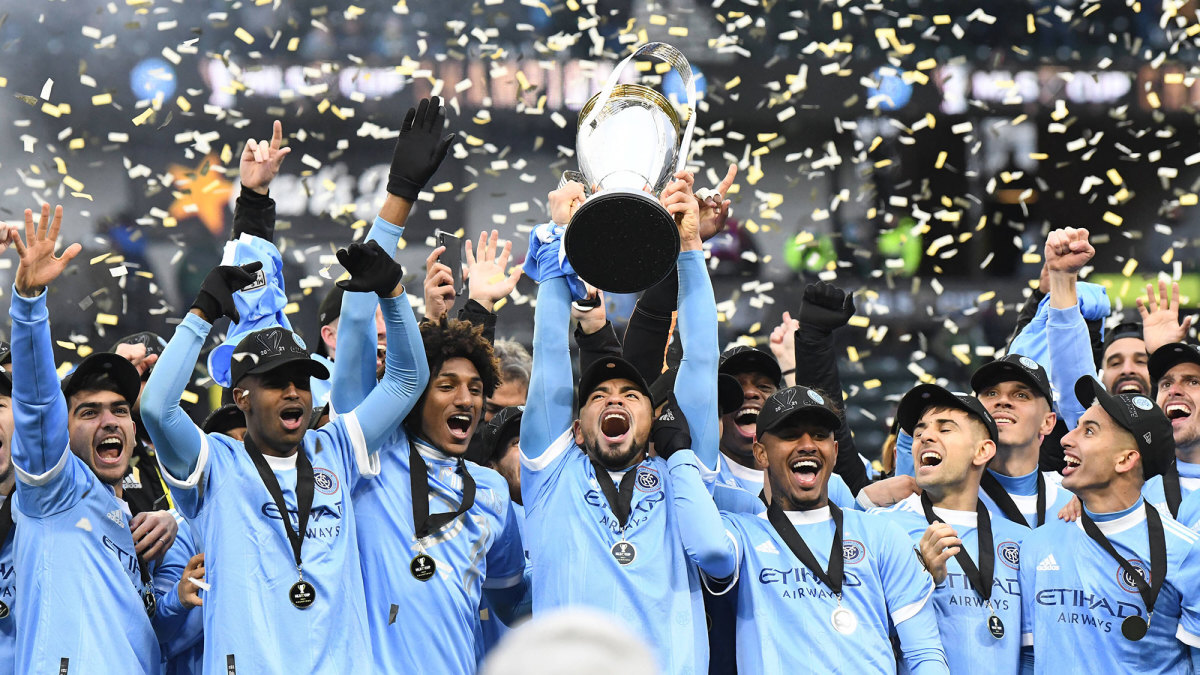 MLS 2022 Season Preview: Top 10 Teams To Watch
Major League Soccer returns for its 27th season on February 26th with Philadelphia Union hosting Minnesota United FC. MLS has got marquee signings, expansion teams, and big changes to the league this year. We've assembled a list of 10 teams to look out for, from top to bottom.
---
New York City FC (NYCFC)
Starting at #1, it's fair to say New York is blue. Everyone was witness to a remarkable second half to the 2020-21 MLS season for the now first-time champs. 
NYCFC lost right-back Ronald Mattarita to Minnesota, striker Alexandru Mitrita to a loan move, and captain Alexander Ring was sent to Austin FC in their expansion draft. They did counteract it by making significant signings including Brazilian talent Talles Magno and Uruguayan loanee Santiago Rodriguez. They ended the regular season in 4th in the East with 51 points, 14 wins, 9 draws, and 11 losses with a goal difference of +20.
NYCFC was always considered "choke artists." Even with David Villa, Andrea Pirlo, and Frank Lampard, they just couldn't win the big one. After a terrible 2020, their first half of 2021 was up and down, with many frustrating losses, including rivals New York Red Bulls taking 4 points away from them.
Leading up to their MLS Cup win, however, they had amassed a 9 game win-streak, putting 6 past DC United, knocking out both Philadelphia and New England from the playoffs while on the road, and traveling to beat the Portland Timbers to finally bring an MLS Cup to New York for the first time ever. 
They've won with heart and with a core team that has been with the club for years. They've now lost young superstar midfielder James Sands to Rangers and winger Jesus Medina to CSKA Moscow. There is also talks of Golden Boot winner Valentin Castellanos heading to River Plate. It's up to Coach Ronny Deila to secure contracts, bring injured players back to fitness, and assure playing time to their talent. This squad is about to face their biggest ever challenge: defending the title. On top of that, they are expected to be the best performing MLS club in the upcoming CONCACAF Champions League (CCL), traveling to play against Costa Rican outfit Santos de Guápiles on February 15th.
---
Portland Timbers
What a bittersweet season the Timbers had. It wasn't the biggest surprise, though.
Coach Gio Savarese had to have his head held high despite this 2nd MLS Cup final loss, this time in Providence Park. They would beat Western top seed Colorado Rapids and had a barnstormer win against Real Salt Lake in the playoffs.
Probably one of the most cohesive Timbers squads ever assembled, their season was defined by its many injuries to star players and they suffered because of it. Midfield star Sebastian Blanco basically played against NYCFC in the MLS Cup final unfit. They finished 4th in the Western Conference with 55 points with 17 wins, 13 losses and 4 draws.
Legendary Timber Diego Valeri leaves hometown club Lanus in Argentina this season after spending nearly a decade in Portland. He will have a Timbers retirement match against Lanus and will be taking on an Ambassador role for the Timbers. 
What Portland must do now is secure their own contracts. The club has somehow allowed Blanco's contract to expire and he remains a free agent, despite his success with the club. They have kept their best defender, Diego Chara, until 2024 and assured some backup goalkeepers and youth talent but time is running out for the Timbers in a Western Conference that is growing more and more competitive. 
---
New England Revolution
Not many criticisms are aimed at the Supporters Shield winners other than they should have won the whole damn thing. 
The Revolution had a season to remember despite losing the Eastern Conference semifinals to eventual winners NYCFC. They won their first Shield in club history by having the best MLS season in history, breaking records under Bruce Arena. America's #1 behind the sticks, Matt Turner, has led his country to glory in 2021, winning the CONCACAF Gold Cup & Nations League in the season of his career.
Unfortunately, sources say that Arsenal has already signed the American, which is strange considering the goalkeeping options at the Emirates. Arsenal has Bernd Leno, Germany's 3rd choice keeper and 23-year old starter Aaron Ramsdale. This sale is a huge blow to the Revs.
But the talent wasn't just in goal, but throughout the squad including the now outgoing Canadian forward Tajon Buchanan, goal threat Gustavo Bou, Designated Player Carles Gil, and more. They won 22, lost 5, and drew 7 matches, with a +20 goal difference and a record 73 points, beating the previous record set by Los Angeles FC (LAFC) back in 2019.
Arena is the most winningest coach in MLS history and a candidate for the "G.O.A.T". The big question is what is needed to change things this season: it will be "MLS Cup or Bust". Losing two playoff runs is bad enough for this Revs squad but next season, it's all about keeping form. They have early CCL matches in February, first against Haitian debutants Cavaly AS, who shouldn't stand a chance. Losing Buchanan to Belgian side Club Brugge was tough but they will keep their 4-3-1-2 attacking hybrid with Gil in the midfield as a double-pivot. They could have a strong 2022 and an even stronger MLS Cup Playoff run.
---
Charlotte FC
Charlotte FC are the new kids on the block and even though aren't likely to win the league, they have a lot of promise.
The Expansion Draft has given them loads of General Allocation Money (GAM) by trading players Tristan Blackmon from LAFC to Vancouver Whitecaps and MLS Cup winner Ismael Tajouri-Shradi from NYCFC to LAFC. Their intention is clear: to assemble an attack-minded squad. It starts with Christian Fuchs and Sergio Ruiz. 
While Fuchs will only play one year with the option to extend to 2023, they have a 35-year-old F.A. Cup & Premier League winner in a city with soccer history but little to show for it. 
Ruiz made a name for himself at Spanish 3rd tier team Racing Santander collecting 127 appearances before signing for Charlotte back in 2020. Charlotte was set to debut before the pandemic halted all major sports. After a loan move to Las Palmas, Ruiz will star as the creative midfielder, sending chances through the channels. 
With their eyes towards more DPs, free agents and the MLS SuperDraft #1 pick Ben Bender, the reputation of soccer down south looks to be elevating this season. Also, there's a new rivalry with Atlanta United. That rules.
---
Austin FC
Speaking of down south, let's address the Matthew McConnaughy sized elephant in the room.
Austin's first-ever sports team, along with Houston Dynamo and FC Dallas, didn't do Texas proud last season. Despite all the marketing, Austin FC finished 12th in the Western Conference, only winning 9 games all season.
The team has some balance and strength. NYCFC midfielder Alex Ring took off the armband there to wear it for Austin in their Expansion Draft. MLS Cup & Supporter Shield winner Maximiliano Urruti was signed from Houston to add a bit of pace and an eye for goal. MLS veterans Brad Stuver, Ethan Finley, Diego Fagundez, and more have also joined the fray.
Expect some tactical changes and welcome additions. Austin played close to a 4-2-3-1, shifting into a wide 4-3-3 last season. This was for midfielders to play it through the open channels and go for goal instead of playing defensive counter-attacks. They've also signed a strong defender in Norweigian international Ruben Gabrielsen, who played well domestically and in the UEFA Europa League at Molde FK.
Austin FC has made improvements in pre-season. They still have time to find form, fitness of their star players, and a winning start come February.
---
Toronto FC
Sebastian Giovinco was a lethal, Italian, 5′ 3" goalscorer after he joined Toronto FC in 2015 from Italian giants Juventus.
Lorenzo Insigne IS a lethal, Italian, 5′ 4" goalscorer, set to join Toronto in mid-2022 from Italian giants Napoli.
Now, Giovinco is currently training with Toronto during their pre-season as a free agent.
The Six might just be feeling some déjà vu.
Before the memories come flooding back, remember what Toronto is currently dealing with. After a humiliating 7-1 loss to DC United early in the season, Coach Chris Armas was fired. Bob Bradley took the helm two months later. The American coach tried fixing up the club defensively on the back of their poor form. It didn't work well, ending their season 12th in the Eastern Conference with a record of 6 wins, 10 draws, and 18 losses.
Toronto FC fans will be pining to see Insigne dominate the league in the same fashion as Giovinco. That 2017 squad was something to behold. A fierce attacking team, determined to win the ball back in the center of the park, led by a diminutive striker who barely played on the bench at Juventus. To bring back that same "Big Six Energy", Insigne is the man to do it. They already have the ability of that 2017 team. Michael Bradley, Jonathan Osorio, and Alejandro Pozuelo in the middle, Jozy Altidore up top, Chris Mavinga and Kemar Lawrence in defense, Alex Bono in goal, etc. A strong physical group of players that can play low through-balls for Insigne is a dangerous squad on the counter.
If Toronto can re-sign Giovinco and make strong additions to their rotation squad, we might just see the Reds on top of more than just Canada.
---
Colorado Rapids
Canada was the home of the greatest moment in Colorado Rapids history. They won the title there once in 2010 and haven't really been as strong until this season. The underdogs of the West ended their campaign as the second-best team in MLS. Their playoff match was a heartbreaker, losing to Portland in the 90′ minute. They collected 61 points with 17 wins, 7 losses, and 10 draws.
They prioritize recruiting veterans like former MLS Cup winner with Colorado Drew Moor, Ben Feilhaber, among others. There's a lot to like about Coach Robin Fraser's team. One of those things that stand out is their transitional attacks. Colorado was third in MLS in xG heading into the playoffs. What they don't seem to have is that physically dominating goalscorer. Every question about this group's ability to put the ball in the net in the postseason was answered in that first half vs. the Timbers. They didn't have enough firepower to bring in for the second half to tilt the field and win the game.
Coach Fraser has always been a tinkerer, though. They've traded US midfielder Kellyn Acosta to LAFC and signed Honduran intl. Bryan Acosta. They let go of US youth talent Cole Bassett to Feyenoord in the Netherlands and signed US youth defender Aboubacar Keita. They've secured a lot of contract extensions. If they find the right balance of youth and experience this year, they will have a better go at the cup this time around.
---
Atlanta United
It's been 4 years since the loudest and rowdiest club in the league last won it.
While they haven't really played awful throughout the season, they've missed the Eastern playoffs twice in a row, losing this year to NYCFC 2-0 at Yankee Stadium. They ended the regular season in 5th in the Eastern Conf. with 51 points, 13 wins, 9 losses and 12 draws. In fact, they collected 1.5 points per game, the same as Orlando City, who was worse, and NYCFC.
Marcelino Moreno, Ezequiel Barco, and Luiz Araujo were three of the top 10 dribblers in MLS, based on their number of dribbles per game. Atlanta can be very hard to read and incredibly unpredictable with the ball – especially in transition. Not to mention how that transition usually ends with Josef Martinez driving towards goal. No further comment.
The only problem was their struggle to turn those possessions into those chances. When faced with a talented midfield such as in NYCFC, New England or Philadelphia, they were in for a loss. To make up for Barco sent to River Plate on loan, they've made many positive signings such as MLS Cup winner Ozzie Alonso, former Revs #1 Bobby Shuttleworth, and George Bello in defense. Getting rid of deadweight and having a solid pre-season will greatly help Atlanta break on through to 2022 in style.
---
FC Dallas
Losing young starlet Ricardo Pepi to German side FC Ausburg for $20 million was the least of their concerns.
Dallas has been through quite the change over its 26 year history. Formerly the Dallas Burn, they've since won a single Supporters Shield and two U.S. Open Cups. They are also known for their high-pressing defensive style and producing stars such as Weston McKennie, Rogelio & Ramiro Funes Mori and Chris Richards. This change took time and they really came into their own in the late 2010's. In 2022, they finished 11th in the league with 15 losses, 12 draws and 7 wins.
Losing Pepi was obviously huge, as he was in hot form in 2021. With all the money from the sale, their biggest transfer so far is Paul Arriola from DC United for a MLS record-breaking $2 million GAM. They are acquiring a locker-room-leading attacking midfielder with international experience. Dallas' front of office is saying the money will be used to strengthen the roster. So far, they loaned out a lot of youngsters and signed a few decent forwards.
Their biggest problem to address may just be improving conditions in the roster. Keep hold of the youth, give them game time, and figure out a proper front 3. And don't play Paxton Pomykal on the wing.
---
Philadelphia Union
COVID affected all of us in the last 3 years. Boy, did it hit the Union come playoff season.
Despite being an expansion team, they've always had a playing style reminiscent of old MLS teams. This side is hard and tactical, and the league hasn't even seen the best of them. Under Jim Curtin, Philadelphia has grown in leaps and bounds. 2020 was undoubtedly their best year, winning the Supporters Shield and earning Curtis the Sigi Schmid Coach of the Year award.
2021 was rough, despite such a strong finish. They ended up 2nd in the East and were going strong into their Eastern Conference final against NYCFC with the home crowd behind them. COVID, however, had infected at least 11 players, forcing them to miss the game and the final, had they progressed. Nonetheless, they scored early through a surprising own goal by star City defender Alexander Callens. After a beautiful NYCFC equalizer, a defensive error by Cameroonian Olivier Mbaizo led to NYCFC setting up their game-winning goal and ending it 2-1.
Losing Union legend Ilsinho essentially lost their midfield. A key player to dictate the middle of the park, they lost a big presence in big games. They also really needed a sure front 3. With just three natural center forwards, the Union often played in a 4-3-2-1. Daniel Gazdag or Paxten Aaronson would have to play as the second forward. The signing of forward Julián Carraza on loan from Inter Miami is an interesting one, considering he's available to buy as a young Argentinian DP. It will come down to a strong transfer window to round out COVID cases on the bench.
---
St. Louis City SC (Surprise entrant)
They are debuting in 2023 but most MLS fans should look into them and what they do this year.
Expansion teams have won 7 titles in the last 10 league seasons. A strong first signing, home & away kit, and fanbase can make all the difference. Just ask NYCFC.
---
Vendetta Sports Media is sponsored by Monkey Knife Fight, the fastest-growing DFS site in the industry. MKF's unique style and gameplay make betting fun and easy. Use our promo code 'VENDETTA' or use the link below to get a 100% instant match on any deposit and let them know that we sent you!
Signup now!
Vendetta Sports Media is on Instagram, Snapchat and even Twitch! Check out our socials and affiliate links!