Australian Opals superstar Liz Cambage has opted to withdraw from the national squad for the 2020 Olympic campaign.
In a statement released on her Instagram, the 29 year old stated that she was dreading the prospect of entering a 'bubble' tournament in Tokyo, claiming that she has been suffering panic attacks and 'relying on daily medication to control (her) anxiety', further saying that her mental state 'is not the place I want it be right now' as she prepared to lead the Opals gold medal push on the worlds biggest sporting stage.
"Anyone that knows me knows one of my biggest dreams is winning an Olympic gold medal with the Opals. Every athlete competing in the Olympic games should be at their mental and physical peak" – Liz Cambage via Instagram
Vendetta Sports understands that Cambage had upset teammates and officials alike with some of her behaviour during their Las Vegas preparation camp.
The star, who plies her trade in the WNBA with the Las Vegas Aces, has reportedly broken team protocols on numerous occasions in leaving the camp to meet with friends. Events came to a head in the recent behind-closed-doors scrimmage against Nigeria, where a physical altercation with a Nigerian player resulted in a heated verbal with members of both the Nigerian and Australian camps.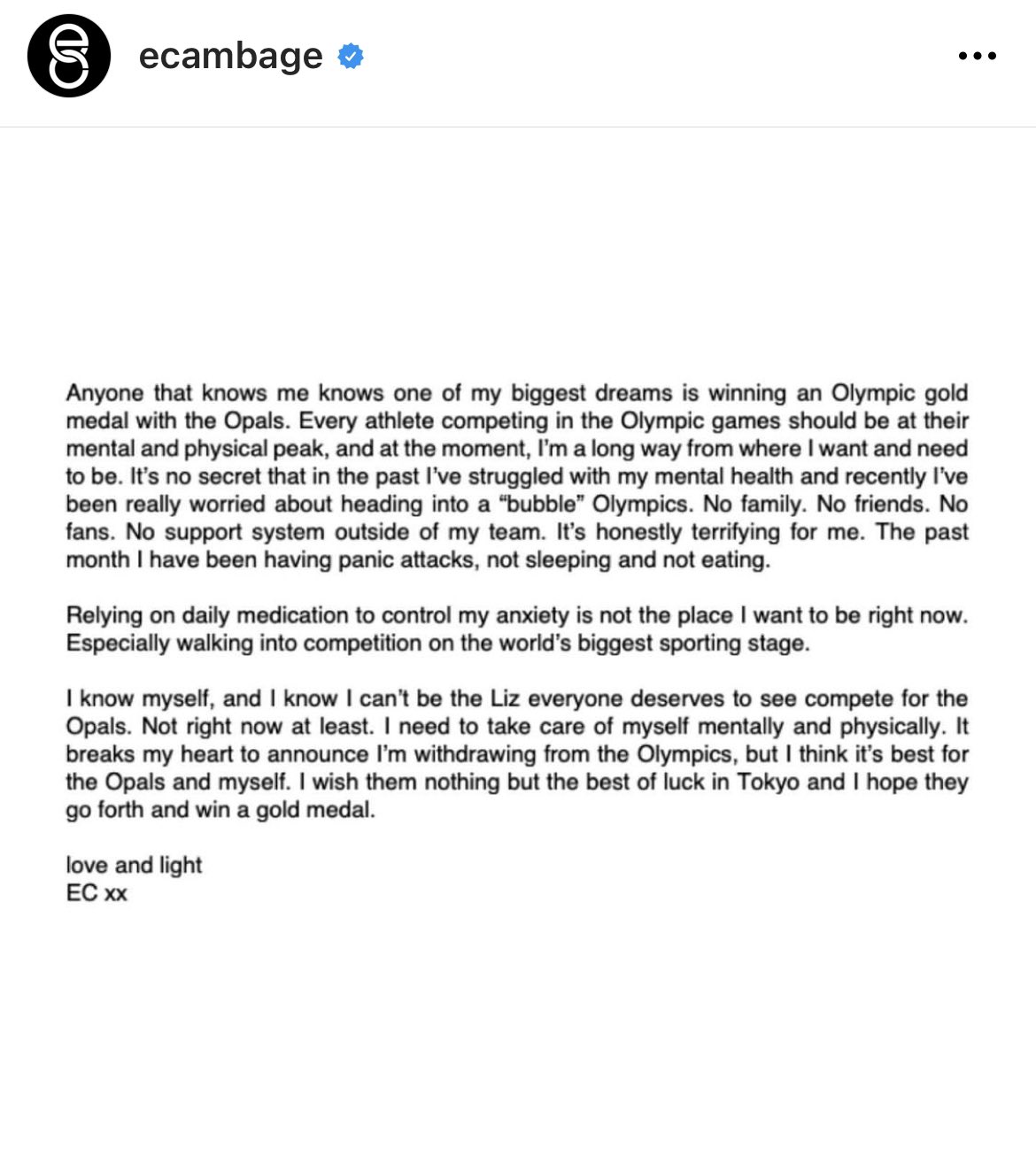 Australian Chef de Mission Ian Chesterman accepted and respected Cambage's decision.
'Liz has made a great contribution to the Australian Olympic Team over two Olympic Games campaigns. We respect her decision and wish her the best in returning to full health.' Chesterman concluded, 'Our focus now moves to working with the Opals so they can achieve the goals they have set for themselves in Tokyo'.
Losing Cambage is a mortal blow for Australia's gold medal hopes in Olympic competition. Whilst the Opals are still stacked with talent, Cambage was their trump card; their beacon. The four time All Star averaged 14.6 points, 8.9 rebounds and 1.7 blocks for the Aces in 2021 and was primed to lead the Aussies tilt for a first Olympic gold medal in the sport.
With the Opals now reduced to an 11 woman squad, options are being explored as to bringing in a replacement player. Shyla Heal and Sara Blicavs are believed to be the front runners, should the Opals be allowed to replace Cambage.
Cambage is never too far from controversy where the national team is concerned.
In the gold medal game at the 2018 Commonwealth Games, Cambage was ejected for arguing with officials and only a few months ago threatened to withdraw from the squad after stating that the Australian Olympic Committee had 'whitewashed' Australian athletes of colour in an ad campaign revealing Australia's Olympic uniforms.
She slammed the releases, saying: "If I've said it once I've said it a million times, HOW AM I MEANT TO REPRESENT A COUNTRY THAT DOESN'T EVEN REPRESENT ME."