Just as last week was so tightly contested across the AFL, round five was full of if not blowouts, then comfortable victories. With one notable exception, but more on that match shortly.
Round five saw some teams start to lose touch with the top eight, even at this early point of the campaign. Collingwood, the Giants and St Kilda, three clubs that would have fancied their chances of competing in the finals, are all mired in the bottom part of the ladder. At the other end, the Bulldogs and Demons continued on their merry way.
Here at Vendetta Sports Media we'll be covering the entire AFL season for you. In case you missed it, all our team previews, and this writers ladder predictions, are located here.
Match of the Week: Sydney Swans vs Greater Western Sydney Giants
Sydney's 'Battle of the Bridge' was the single nail biter of round five.
Both the undefeated Swans and the struggling, though talented Giants, had high stakes in this contest. For the upstart Swans, it was the chance to move to 5-0, whilst definitively proving themselves both the top team in Sydney and a legitimate premiership contender. For the Giants, this was their opportunity to put their noisy neighbours back in their box, while continuing to rescue their season from a poor start.
Neither side started particularly brightly, both the Giants and the Swans butchering the ball, before Giant Brent Daniels finally slotted a goal 17 minutes into the contest. The Swans suddenly found their range, with a pair of goals to youngster Will Hayward sandwiching a Buddy Franklin major pushing the Swans lead to 11 points at the first change. From Daniels goal to the quarter time siren, Sydney had 41 disposals to the Giants 18, in an impressive 15 minutes of football.
The Giants intensity noticeably increased after the break, leading to goals from Harry Himmelberg and Jake Riccardi that kept the Giants in touch. Franklin, though, took control. The veteran star kicked a pair of goals inside 70 seconds – the latter a wonderful finish on the turn – late in the 2nd quarter to push the half time lead out 15 points; a solid lead in a low scoring encounter.
For all of Sydney's territorial dominance in the first half, the Giants could – perhaps should – have been closer, but for their poor goal kicking. Star man Toby Greene was the worst offender, kicking four behinds – he wound up kicking one goal seven behinds on the night – clearly frustrating coach Leon Cameron.
Will Hayward's 3rd goal for Sydney pushed the margin to 20 points early in the 3rd quarter and the Swans, generally owning the run of play, looked like they could pull away. Jeremy Finlayson's goal and a second to Himmelberg once again brought the margin back to single figures. The Giants – wearing a special edition 'Never Surrender' jumper (which in this writers humble opinion is so much better than their actual strip), indeed refused to surrender.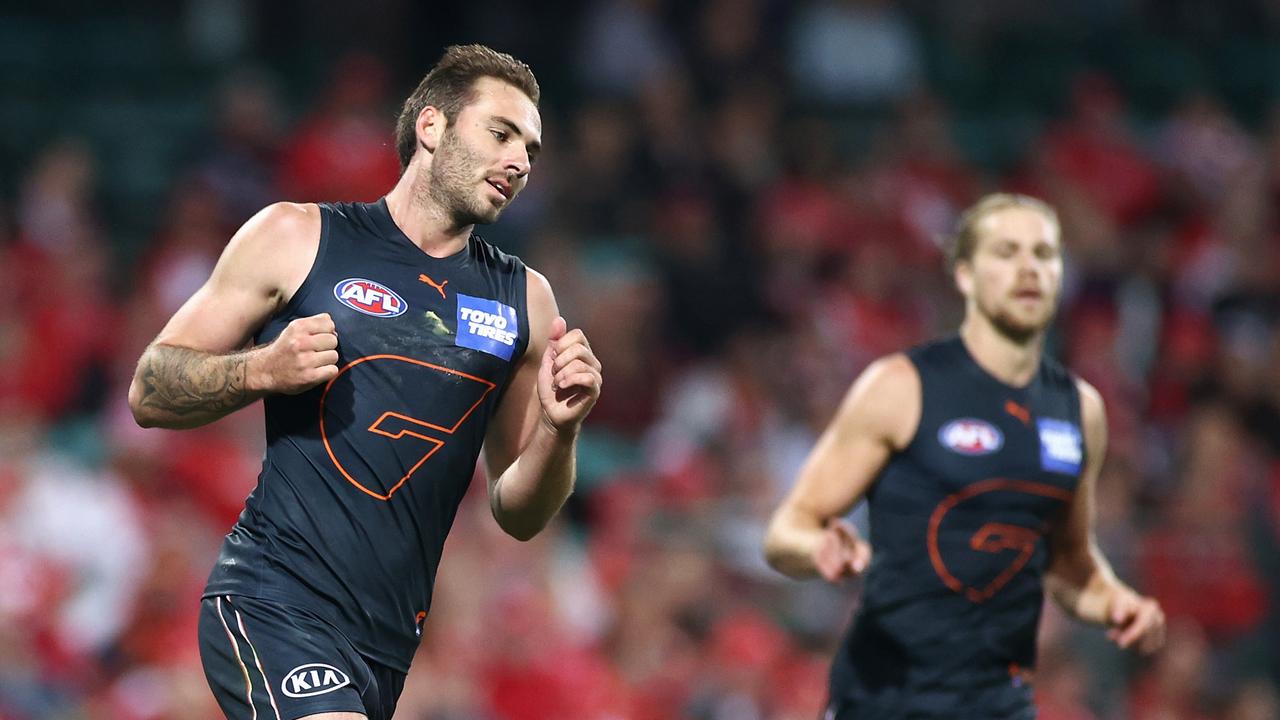 The Swans, though, looked to have an answer to every Giants challenge. Franklin was in vintage touch up forward, booting his 4th of the game late in the quarter after a strong pack mark to ease the margin out, once again. The Swans leading by 15 points as the teams entered the final term.
An early goal to Swans live-wire Tom Papley, pushing the lead out to a game high 21 points, could have broken the spirit of the Giants. Instead, they hit back through goals to Xavier O'Halloran and Finlayson. Franklin once again stepped up for Sydney, marking strongly before calmly kicking his 5th goal for the night. After that kick, though, the Swans inexplicably went back into their shells, even though there was still around 20 minutes of football left to play.
The Giants, sensing their chance, pushed forward with desperation. Yet again their kicking let them down as they scored five straight behinds across 10 minutes of relentless pressure. Finally, Toby Greene managed to find the goals, bringing the margin back to just four points and setting up a grandstand finish.
From a stoppage deep in the Giants forward line, Swans ruck Sam Reid saw his hitout sharked by Giant Josh Kelly and the star midfielder – a long way below his best on the night – snapped truly on his left boot to somehow put the Giants ahead with only 70 seconds left to play.
Belatedly the Swans reverted back the the attacking football that had earned them the lead, but the Giants were able to withstand a pair of forward thrusts, as well as an ambitious after the siren kick from Tom McCartin, to earn a hard fought, sometimes ugly victory over their rivals.
Despite his awful kicking, Greene was a beast up front for GWS. On another night, he'd have kicked a swag of goals. Jacob Hopper and Tim Taranto played well across the four quarters, constantly able to extract the ball from tight spaces. Kelly, as woefully as he kicked the ball, did amass 26 possessions and was a constant outlet for his team.
Franklin was at his unstoppable best for the Swans, scoring half of Sydney's goals on a night that wasn't exactly tailor made for big key forwards. Hayward was impressive alongside Buddy in the forward line and picked up 27 disposals.
Sydney Swans: 10 goals, 9 behinds (69)
Greater Western Sydney Giants: 9 goals, 17 behinds (71)
Goals
Sydney: Franklin 5, Hayward 3, Papley 2
GWS: Himmelberg 2, Finlayson 2, Daniels, Riccardi, Kelly, Greene, O'Halloran
Best
Sydney: Franklin, Hayward, Lloyd, Hickey, Dawson
GWS: Hopper, Taranto, Greene, Ward, Daniels
Onto the other games of round five of the AFL season.
St Kilda Saints 7 goals, 6 behinds (48) lost to Richmond Tigers 20 goals, 14 behinds (134)
Goals
St Kilda: Higgins 2, Lonie 2, King, Butler, Hunter
Richmond: Reiwoldt 5, Lynch 3, Graham 3, Castagna 2, Rioli 2, Edwards, Pickett, Bolton, Martin, Aarts
Best
St Kilda: Clark, Steele, Battle, Coffield
Richmond: Edwards, Bolton, Reiwoldt, Martin Lynch, Graham, Cotchin
Round five kicked off with a potential banana peel for the Tigers, after the Saints stirring comeback against the Eagles last week. We can safely consider that peel dodged. The Saints chances were undermined before the match started with the late withdrawals of Zac Jones and Rowan Marshall, but they kept things tight early, taking a one point lead into quarter time. That was as good as it got for St Kilda, the Tigers pouring in seven of the next eight goals to blow the game open. A pair of quick St Kilda goal sin the 3rd quarter was met by another five Tigers majors. Richmond rubbed salt into the Saints wounds, kicking the final four goals of the game. Jack Reiwoldt continued his stellar campaign with another five goals, whilst Dustin Martin monstered the Saints with 34 possessions.
West Coast Eagles 16 goals, 7 behinds (103) defeated Collingwood Magpies 11 goals,10 behinds (76)
Goals
West Coast: Darling 5, Allen 5, Sheed 3, Kelly, Kennedy, Brander
Collingwood: Moore 3, Grundy 2, Mihocek 2, McCreery 2, C Brown, Cameron
Best
West Coast: Allen, Redden, Darling, McGovern, Sheed, Gaff, Kelly, Witherden
Collingwood: Crisp, Pendlebury, Moore, Maynard, Grundy, Mihocek
After last week's lacklustre performance, the heat was on Collingwood. They responded early, with a trio of late goals seeing them take a surprising 15 point quarter time lead in Perth. Through Jack Darling, the Eagles hit back hard. Darling kicked four of the Eagles six second quarter goals – Oscar Allen also had three to half time – to see West Coast snatch back the half time lead. Dom Sheed put the game out of reach for Collingwood late in the third period. The 2018 Grand Final hero kicked three inside three minutes to push the lead out to 41 points. Collingwood kicked the opening three goals of the final stanza to put a mild scare into the Eagles, but the home side steadied to take a confident victory. Allen and Darling each kicked five goals, whilst Andrew Gaff had his own football, with 38 disposals. Star Collingwood backman Darcy Moore was played exclusively as a forward in this match. He kicked three goals so, in isolation, the move worked. However, with Darling and Allen having a field day at the other end, you have to ask, to what cost?
Western Bulldogs 17 goals, 16 behinds (118) defeated Gold Coast Suns 8 goals, 8 behinds (56)
Goals
Bulldogs: Bontompelli 3, Dunkley 2, Treloar 2, Bruce 2, Naughton 2, Wood, English, Hunter, Liberatore, Scott, McNeil
Goals Coast: Corbett 3, King 2, Rankine, Sexton, Lukosius
Best
Bulldogs: Bontompelli, Dunkley, Treloar, Macrae, Hunter
Gold Coast: Lukosius, King, Corbett, Miller, Ellis
The ladder leading Bulldogs got their business done early in this one, leading 25 to two at quarter time. It only got worse for the Suns, as the Dogs piled on another seven straight goals in the second period, before Jack Lukosius broke the Suns duck with a late 2nd term goal. At the half, the Bulldogs lead 70 points to nine, and another 100+ point blowout looked a certainty. To their credit, Gold Coast came out breathing fire in the third, at one stage kicking six of seven goals, reducing the margin to a more respectable 41 points at the final change. As they have done all season, the Bulldogs had a final gear in them, as they pushed the margin out to its final 62 points. The Dogs midfield ran this game. Marcus Bontompelli's 150th game was a masterclass: 33 disposals and three goals. Josh Dunkley (37 possessions and two goals) and Adam Treloar (26 and two) were brilliant. Suns halfback Jack Lukosius can hold his head high. The 5-0 start is the Dogs best since the 1946 season.
Carlton Blues 9 goals 14 behinds (68) lost to Port Adelaide Power 15 goals, 6 behinds (96)
Goals
Carlton: Casboult 2, Fogarty, Walsh, McGovern, McKay, Newnes, Cottrell, Pittonet
Port Adelaide: Gray 3, Georgiades 3, Dixon 2, Fantasia 2, Lycett, Marshall, Amon, Rozee, Woodcock
Best
Carlton: Cripps, Walsh, Saad, Casboult, Docherty
Port Adelaide: Byrne-Jones, Marshall, Wines, Amon, Georgiades, Aliir, Gray
A business-like performance from the Premiership fancies, as the Power did what they had to do to see of a resilient, but ultimately overwhelmed, Carlton side. With a slew of the Power's potent young midfielders sidelines, 33 year old Robbie Gray would back the clock with a vintage 1st half performance. Playing from the midfield for the first time in years, Gray was immense, kicking three first half goals and setting up two more. Though he faded in the second half, he did his work when the match was there to be won. Port Adelaide's big forwards were dominant: Mitch Georgiades, Charlie Dixon and Todd Marshall all rotating through the forward line. When Blues backman Jacob Weitering was off the field getting treatment for a head injury in the third quarter, that trio took over, taking big marks, setting up teammates and hitting the scoreboard themselves. Sam Walsh (32 possessions) was excellent for the Blues, but was swamped by the likes of Ollie Wines (32 disposals, seven clearances) and Travis Boak (29) in midfield.
Brisbane Lions 15 goals, 12 behinds (102) defeated Essendon Bombers 6 goals, 9 behinds (45)
Goals
Brisbane: Hipwood 3, McStay 2, Prior 2, Daniher 2, Neale 2, McCarthy 2, Cameron, McCluggage
Essendon: Hooker 4, Stringer, McDonald-Tipungwuti
Best
Brisbane: McCluggage, Rich, McCarthy, Neale, Lyons, Andrews
Essendon: McGrath, Parish, Hooker, Merrett
In the driving Queensland rain, Brisbane finally looked like their 2020 selves. The Lions led from siren to siren in this one, never giving the Bombers a sniff. The much ballyhooed meeting of former Bombers star Joe Daniher with his former team flamed out somewhat, with the match over early, and Daniher only kicking a pair of 2nd half goals, though his play around the ground was solid. Rather, it was the manic defensive pressure from the Lions defense and midfield that won this game. Brownlow Medallist Lachie Neale played his best game of the year with 38 disposals, his ability to win the ball cleanly in the trying conditions standing out. High McCluggage amassed 32 possessions and a goal, whilst veteran half back Daniel Rich turned in a vintage display; his 27 kicks – most of them on that magic wand of a left boot – driving the Lions forward with a precision that belied the conditions.
Adelaide Crows 11 goals, 6 behinds (72) lost to Fremantle Dockers 12 goals, 12 behinds (84)
Goals
Adelaide: Walker 2, Rowe 2, McAdam, Scholl, Lynch, Murhpy, McHenry, Fogarty
Fremantle: Taberner 4, Schultz 2, Colyer 2, Aish, Frederick, Mundy, Darcy
Best
Adelaide: Laird, Seedsman, Keays, Smith, Scholl
Fremantle: Mundy, Taberner, Aish, Brayshaw, Ryan, Darcy
After an even fist stanza, the resurgent Crows started to slowly ease away in the second quarter, behind a late three goal burst. The young Dockers, though, were able to respond in the second half with Matt Taberner (4 goals) a constant threat up forward. With the match on a knifes edge midway through the final term, Fremantle put away four goals in eight minutes. Though Adelaide were able to peg back a paid of those through late goals of their own, the damage was done. This was a statement win for the young Dockers. Andrew Brayshaw was superb with 33 disposals and seven clearances, whilst Luke Ryan patrolled the backline effectively. The Dockers may have won by more but for the efforts of Crows defenders Brodie Smith and Tom Doedee.
Hawthorn Hawks 8 goals, 6 behinds (54) lost to Melbourne Demons 15 goals 14 behinds (104)
Goals
Hawthorn: Breust 2, Hanrahan 2, O'Brien 2, Moore, McEvoy
Melbourne: Langdon 3, Melksham 3, Brown 2, McDonald 2, Petracca 2, Pickett 2, Gawn
Best
Hawthorn: O'Meara, Mitchell, Impey, Wingard, Scrimshaw
Melbourne: Gawn, Lever, Langdon, Salem, Hibberd, Oliver, Petracca, McDonald
Second vs second last. On paper, this was a walkover, but an already depleted Demons forward line was further weakened with a training injury to leading scorer Bailey Fritsch. However, it was the absence of key defender Steven May that worried most of a red and blue persuasion. For three quarters, those fears seemed well based. Hawthorn played superbly for most of this match. Despite the dominance of Demons skipper Max Gawn in the ruck, the Hawks speed all over the ground had Melbourne scrambling. When Dylan Moore goaled 13 seconds into the final term reduced the Demons lead to just four points, an upset looked on the cards. That finally shook the Dees out of their malaise, Melbourne slamming on seven of the last eight goals, steamrolling the Hawks to win by a somewhat flattering 50 points. Gawn was immense with 26 disposals, 24 hitouts, eight contested marks and a monster goal to start the final quarter blitz. Jake Lever held the backline together admirably. Ed Langdon and Tom McDonald were also amongst Melbourne's best. Jaeger O'Meara with 27 classy possessions and the creative Chad Wingard were Hawthorn's best.
Geelong Cats 10 goals, 17 points (77) defeated North Melbourne Kangaroos 7 goals, 5 behinds (47)
Goals
Geelong: Menegola 2, Rohan 2, Close, Bews, Dalhaus, Tuohy, Hawkins, Miers
North Melbourne: Stephenson 2, Larkey 2, Cunnington, Hall, Thomas
Best
Geelong: Parfitt, Stewart, Henderson, Duncan, Blicavs, Menegola
North Melbourne: Cunnington, Simpkin, Atley, Bonar, Young, Stephenson
The winless Kangaroos came at this game with a spirit that they hadn't yet shown in 2021. Against a strong cats lineup welcoming back superstar Patrick Dangerfield from suspension, the Roos thoroughly outplayed Geelong in the first quarter, though could only parlay that into a 10 point lead. As the Cats started to get a foothold, their greater skill and experience showed as they slowly but surely turned the screws. Despite a sloppy performance, the Cats prevailed by a relatively comfortable 30 points in the end. With veteran stars in Dangerfield (22 disposals), Joel Selwood (18) and Tom Hawkins (one goal) all well held, other Cats stepped up. Brandon Parfitt amassed a career high 34 possessions and the backline trio of Tom Stewart Lachie Henderson and Mark Blicavs stood up well under heavy Kangaroo pressure. Jack Zeibell racked up 38 possessions in a free role in defense, whilst Ben Cunnington had 29 disposals of his own.
Coleman Medal leader board
Taylor Walker (Adelaide) – 22 goals (2 goals this week)
Josh Bruce (Bulldogs) – 17 (2)
Jack Reiwoldt (Richmond) – 17 (5)
Harry McKay (Carlton) – 16 (1)
Cale Hooker (Essendon) – 16 (4)
Jack Darling (Eagles) – 15 (5)
Toby Greene (Giants) – 14 (1)
Oscar Allen (Eagles) – 14 (5)
#
Club
M
Pts
%
For
Agt
This Week
Projected
Next
1
W Bulldogs
5
20
178.6 %
527
295
Won vs G.C.
118 – 56
1st: 64 pts, 131 %
Friday
@ GWS
2
Melbourne
5
20
147.6 %
462
313
Won @ Haw
104 – 54
2nd: 64 pts, 124 %
Saturday
vs Rich
3
Sydney
5
16
127.2 %
515
405
Lost vs GWS
69 – 71
6th: 52 pts, 109 %
Saturday
@ G.C.
4
Port Adel
5
16
125.8 %
482
383
Won @ Carl
96 – 68
4th: 56 pts, 114 %
Sunday
vs St.K
5
Richmond
5
12
124.9 %
466
373
Won @ St.K
134 – 48
3rd: 60 pts, 125 %
Saturday
@ Melb
6
WC Eagles
5
12
115.2 %
469
407
Won vs Coll
103 – 76
9th: 44 pts, 102 %
Saturday
@ Geel
7
Adelaide
5
12
104.0 %
467
449
Lost vs Freo
72 – 84
12th: 40 pts, 92 %
Sunday
@ Haw
8
Geelong
5
12
99.7 %
378
379
Won vs N.M.
77 – 47
7th: 48 pts, 102 %
Saturday
vs WCE
9
Fremantle
5
12
97.7 %
389
398
Won @ Adel
84 – 72
10th: 44 pts, 97 %
Saturday
vs N.M.
10
Brisbane
5
8
101.8 %
403
396
Won vs Ess
102 – 45
5th: 52 pts, 113 %
Saturday
@ Carl
11
Carlton
5
8
95.8 %
412
430
Lost vs P.A.
68 – 96
8th: 44 pts, 102 %
Saturday
vs B.L.
12
GWS Giants
5
8
89.9 %
363
404
Won @ Syd
71 – 69
11th: 40 pts, 96 %
Friday
vs W.B.
13
St Kilda
5
8
71.4 %
377
528
Lost vs Rich
48 – 134
15th: 36 pts, 85 %
Sunday
@ P.A.
14
Essendon
5
4
91.4 %
424
464
Lost @ B.L.
45 – 102
13th: 36 pts, 97 %
Sunday
@ Coll
15
Gold Coast
5
4
87.9 %
356
405
Lost @ W.B.
56 – 118
17th: 28 pts, 85 %
Saturday
vs Syd
16
Collingwood
5
4
87.4 %
367
420
Lost @ WCE
76 – 103
14th: 36 pts, 96 %
Sunday
vs Ess
17
Hawthorn
5
4
77.6 %
340
438
Lost vs Melb
54 – 104
16th: 32 pts, 89 %
Sunday
vs Adel
18
North Melb
5
0
45.4 %
258
568
Lost @ Geel
47 – 77
18th: 16– pts, 64 %
Saturday
@ Freo