2019-2020 NBA Power Rankings 2.0
We're a quarter of the way through NBA season 2019-20, and we're starting to see some tiers emerging at either end of the league.
Whilst there is a top heavy feel to the standings, there are a glut of teams jostling for position behind the elites.
Throughout the season, Vendetta Sports Media will be bringing you our NBA Power Rankings. These are not necessarily ranking based on records. This is a purely subjective assessment of how a team is progressing, projected and playing.
All records are as of Thursday night Australian time.
30. New York Knicks (Steady)
(5-20) Last week: 1-3
Coach David Fizdale finally got the axe this week.
Whilst we all know that the problems in New York stretch far beyond who patrols the sideline, it was interesting to see the Knicks almost take down Indiana in their first game under interim Head Coach Mike Miller (no, not that Mike Miller). The Knicks held Indiana scoreless for the final 5:17 of the game, only to lose in the most heartbreaking fashion. Knicks gonna Knick, folks.
Since then, the Knicks got a win against Golden State. So….why are they still below the Dubs in the Power Rankings? Well, if you're going to win a game, don't make it against the only side that has a comparable record to you. The Knicks can't even tank properly.
29. Golden State (Steady)
(5-21 Record) Last week: 1-2
Before the loss to the Knicks, the Warriors had displayed a much improved defensive effort, holding opponents to 110 or less in 8 consecutive games. Having Draymond Green back on the floor for a large part of that run helped, but the coaching staff can take their share of credit, as well.
Unfortunately, those 8 games produced a 2-6 record. Better than they had been traveling, but pretty dismal nonetheless.
28. Cleveland Cavaliers (Steady)
(5-19) Last week: 0-4
Let the Kevin Love Sweepstakes begin!
Where will the veteran forward land? At this stage, it's up on the air, but we do know that the man wants out. The recent reports of unrest with Coach John Beilein and the Cavs sudden public acknowledgment of Love being shopped can't be coincidental. Although Tristan Thompson begs to differ.
27. New Orleans Pelicans (Down 2)
(6-19) Last week: 0-4
After losing to the Mavericks by a franchise record 46 points, Coach Alvin Gentry said, 'We don't want to become the league's pincushion'. There's an appropriate phrase here….something about a gate and a bolting horse? Riding a 10 game losing streak, the Pels have underperformed by a huge margin, compared to preseason expectations.
The lone bright star has been Brandon Ingram, but rookie Jaxson Hayes has shone in the minutes opened up by injuries to Zion Williamson and Derrick Favors. The 19 year old pogo stick is averaging 13.4 points with a pair of blocks in his last 3 outings.
26. Atlanta Hawks (Up 1)
(6-19) Last week: 1-2
The Hawks have fallen well short of expectations this season.
There was a quiet belief that the club could, if not make the playoffs, then at least be in the race late in the season. Sitting at the bottom of the South East Division, it's fair to say things haven't gone as planned so far. That's OK, though. Atlanta is a young ball club on the rise. Their core of Trae Young, John Collins, Kevin Huerter and De'Andre Hunter are all 22 or younger. Even the veteran role players like Jabari Parker (24), Alex Len (26) and Allen Crabbe (27) are all in their primes.
That's all balanced by Vince Carter. Half Man/Half Pensioner is 42 these days. He played his 1500th game against Miami on Wednesday, knocking down four 3 pointers in 26 minutes. There's hope for us oldies yet.
25. Chicago Bulls (Down 2)
(9-17) Last week: 1-3
After a horrible November, possibly playing injured, Lauri Markkanen appears to be back to his usual self. Since the start of December, the Finn is putting up 19 points on 68% True Shooting, up from a measly 11.9 at 49% last month.
Somehow, Kris Dunn is still a living, breathing, NBA starter. Sure, injuries have played a hand in his recall but to see Dunn starting as a starting small forward is jarring. He's 'contributing' an underwhelming 8 points, 4 boards and 2 assists as a starter. Surely the Bulls have better options than this?
24. Memphis Grizzlies (Steady)
(8-16) Last week: 2-1
Grey clouds with silver linings for the Grizzlies this week.
Ja Morant returned to the lineup against Golden State and didn't miss a beat, dropping 26 and 7 on the hapless Warriors. He did this to Aron Baynes against Phoenix. Jaren Jackson Jr is also on a tear after a slow start to his sophomore campaign. He's averaged 20.7 points and 1.6 blocks in his last 6. He still doesn't rebound nearly enough, but with Jonas Valanciunas snaffling everything in site, there's not too much to go around.
The cloud to those linings? Rookie Brandon Clarke is out until probably Christmas with an oblique strain.
23. Washington Wizards (Down 3)
(7-16) Last week: 1-3
For so many years in OKC, Scott Brooks was castigated for his lack of sophistication as an offensive coach. If his Thunder sides didn't get heat from Kevin Durant or Russell Westbrook, there was really no plan B. In Washington, that lack of structure has played right into the hands of a devastating and incredibly entertaining offensive juggernaut.
With John Wall injured, there is no truly ball dominant player on this roster. As a result, the ball pings around the court – the Wiz are tied for the league lead in assists per game at 28.3 – and Washington's shooters are free to shoot as often as they like. Five players are shooting over 35% from deep, with Bradley Beal a hair off at 34.3%. The unlikely leader of that brigade is Davis Bertans. His 32 point explosion against Charlotte pushed Bertans to an even 4 makes from deep per game, at over 45%. There is no hotter hand in the league, right now.
22. Charlotte Hornets (Steady)
(11-16) Last week: 2-2
We need to talk about Nic Batum. The veteran Frenchman who turns 31 on Saturday (joyeux anniversaire), is averaging career low numbers across the board: 3.3 points, 4.2 boards, 3.1 assists, shooting 27% from deep and sporting an abysmal PER of 9.0. Charlotte gets all that for the princely sum of $25.5 million. I'm going to go out on a limb, here: Batum WILL opt in to his $27.1m player option for next season. Hot takes, right here folks!
How many assets would it take for the Hornets brass to dump Batum's contract on someone? Would they need to throw in a couple of Michael Jordan's summer homes?
21. Detroit Pistons (Up 3)
(10-14) Last week: 2-0
Don't look now, but the Pistons are starting to right the ship.
Winners of 4 in 5, the Pistons are starting to play some solid basketball with Derrick Rose and Blake Griffin back on the floor. Rose continues his extended Indian Summer. The injury prone guard is averaging 16.1 points and 5.8 assists on the season. He also gives the Pistons the closer they haven't had since Chauncey Billups was at his peak.
20. San Antonio Spurs (Up 1)
(9-14) Last week: 1-0
The Spurs continue rise from the ashes, as they always seem to. Since breaking their 8 game losing streak, the Spurs have played better than .500 basketball and put themselves back in the playoff conversation. The Spurs are the undead – you cannot kill them.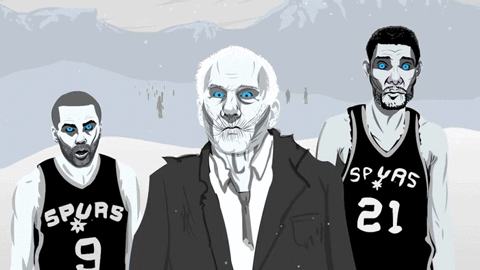 It's nice to see Coach Popovich loosen the reigns on 2018 1st round pick Lonnie Walker IV. Walker poured in a career high 28 points and took the assignment on James Harden in the Spurs controversial win over the Rockets.
(10-15) Last week: 1-2
The Blazers tissue thin forward rotation was stretched further this week, with Rodney Hood tearing his Achilles tendon. The 27 year old was having a quietly solid season for Portland, averaging 11 points and knocking down a blistering 49.3% of his long range attempts. A trade looks a certainty now, with the Thunder's Danilo Gallinari the favourite to be brought in.
Portland were quietly reeling after the initial glow of Carmelo's reanimation, but they got the good oil (an easy win against the Knicks) to get them back in the winners circle.
18. Phoenix Suns (Down 3)
(9-11) Last week: 1-2
The Suns are treading water, right now. Their centre 'rotation' essentially consists of an over matched Frank Kaminsky, who has at least started to shoot the ball well, and moving Kelly Oubre up to the 5 in smaller lineups. Aron Baynes returned against the Wolves and dropped 12 points in 15 minutes. The Greatest Shooter In The World also knocked down a pair of 3's.
The main reason that the defense hasn't totally cratered without a presence in the middle is point guard pair Ricky Rubio and Jevon Carter. They are the Suns leaders in Defensive Rating.
17. Orlando Magic (Steady)
(12-12) Last week: 2-1
Orlando reeled off an unremarkable 4 game winning streak against a cupcake schedule: Dubs, Wiz, Suns, Cavs. They've since lost to the Bucks and Lakers, with a home game against Houston preceding a Western road trip. Swings and roundabouts, I suppose.
Markelle Fultz looks firmly entrenched as the starting point guard. He's averaging 13.7 points and 5.8 assists. With DJ Augustin back in his natural habitat as a good backup, the Magic suddenly have a solid rotation and the one.
16. Minnesota Timberwolves (Down 3)
(10-14) Last week: 0-4
Losers of 6 straight, the Wolves are in a nosedive. Karl Anthony Towns continues to put up MVP numbers and Andrew Wiggins has continued his strong play after returning to the team. It hasn't translated to wins in the past week or so, however. The Wolves could do with some old fashioned digging in, and try to grind out a game on defense. Minnesota have only held a team to under 100 points once all season – Charlotte on October 26th! They've conceded 128.4 points through their current losing streak.
15. Oklahoma City Thunder (Up 4)
(11-13) Last week: 3-1
The Thunder are getting it together. Winners of 5 of their past 7 games, OKC is tied with Phoenix for the final Western playoff spot. Their offense is finally beginning to click on a night to night basis. The Wolves had 3 players score 20 or more against Portland and had 5 different players rack up 20+ points against Minnesota.
The Thunder flat out stole that game from the Timberwolves, thanks to the manic competitiveness of on Christopher Emmanuel Paul. The man never misses a beat.
14. Sacramento Kings (Up 4)
(11-13) Last week: 3-1
Dr Jekyll, meet Mr Hyde.
In their past 7 contests, the Kings have taken down Denver, Dallas, Houston and a resurgent OKC. They've lost to Chicago, Portland and San Antonio. Yeah……I've no idea what to make of that.
It does show what this team could do once De'Aron Fox and Marvin Bagley are healthy, but it also shows a fragility, losing to teams that they probably feel they should beat.
13. Brooklyn Nets (Up 1)
(13-11) Last week: 2-1
The Ewing Theory vibes continue to resonate around the surging Nets. With 8 wins in their last 11, the Nets are now sitting 7th in the conference, all without supposed bellwether Kyrie Irving. Throw in Boston's resurgence with Kemba Walker in Irving's place, and…..maybe there is something to this.
Spencer Dinwiddie continues to shine in Kyrie's absence. What the Nets decide to do with him once Irving returns will be fascinating. Do they trade him? If not, how does Coach Kenny Atkinson stagger their minutes?
12. Utah Jazz (Steady)
(14-11) Last week: 2-1
The Jazz continue to struggle. In what is a disappointing season thus far, the Jazz's offense is ranking 23rd in points per 100 possessions. Their previously elite defense – the bedrock of Coach Quin Snyder's teams – has slipped to 14th in the same metric.
The one saving grace for Utah – as it seems to be every season – is that they've played an incredibly tough schedule so far. According to Tankathon, the Jazz have the easiest remaining schedule in the entire league.
11. Indiana Pacers (Steady)
(16-9) Last week: 2-2
Despite a big win against Boston last time out, the Pacers appear to have lost a little of their momentum in the past week, with a loss to the Pistons and a lucky escape against the Knicks. Still, if you had offered any Indy fan if 6th place in the East in mod December, with no Oladipo and so many new pieces to integrate, they'd have likely bitten your hand off.
Myles Turner continues to make a sneaky Defensive Player of the Year bid. His game saving block in the Knicks win was majestic.
10. Toronto Raptors (Down 1)
(16-8) Last week: 1-3
A tough stretch for the Raptors, with losses to fellow league heavyweights Miami, Houston, Philadelphia and the Clippers. These losses hurt, but are by no means a death knell to the Raps hope of a top 2 seed – they're only 1.5 games off Boston and Miami even after that run.
Kawhi Leonard returned to T-Dot to get his ring and his old club didn't play down the occasion, putting on a memorable thank you.
9. Houston Rockets (Up 1)
(16-8) Last week: 3-1
What is is about the Rockets and their ability to turn fringe wings into quality NBA basketballers?
Their latest reclamation project is former Kings washout Ben McLemore. The former lottery pick, compared to Ray Allen in some circles prior to his draft, has had an immensely disappointing NBA career so far. However in his past 5 games, he's pouring in 20.4 points and shooting 26 of 58 (44.8%) from deep in that span.
Funny how playing a well defined, narrow role (in this case, run really fast and hit deep 3's) can help a limited player find their niche. Playing next to James Harden wouldn't hurt, I suppose.
8. Denver Nuggets (Down 4)
(14-8) Last week: 1-3
The Nuggets are struggling. They've gone down in 5 of their past 6 games – the lone win against the Knicks in David Fizdale's last game – as it appears their offensive struggles have finally caught up with them.
The Nuggets strong defense surrenders a league best 101.7 points per game (per Basketball Reference). Coach Mike Malone deserves immense credit for getting a traditionally poor defensive club, with only one real defensive ace in the ageing Paul Millsap, to be as good as it is. Now, if only they could get the offense back to something approaching traditional Denver teams.
7. Dallas Mavericks (Steady)
(16-7) Last week: 1-1
Inexplicably, the Mavericks – winners of 10 from 11 prior – somehow lost at home to Sacramento this week. It should be no more than a gentle speed bump on the road to a playoff slot, but those sorts of lapses in collective concentration are something that notorious perfectionist Coach Rick Carlisle will want to drive out of his team.
The Wunderkid Luka Doncic continues to rake in accolades. His latest: 19 straight games with at least 20 points, 5 boards and 5 assists, eclipsing one Michael Jordan for the longest such streak post merger.
They play Detroit next up, but after that? Miami, Milwaukee, Boston, Philly and Toronto. Go 3-2 or better in that 5 game set and we'll know Dallas is for real.
6. Boston Celtics (Down 1)
(17-6) Last week: 2-1
Sometimes, being a professional athlete is about more that what you do on the playing field. Kudos to Marcus Smart on calling out the behaviour of a fan in Denver. This sort of stuff simply can't continue to happen. Sadly, this is still occurring in 2019, all over the world from the NBA to football in England, to cricket in India to Australian Rules football, to name but a few. Athletes are human and can take only so much. In an age where we have a much deeper understanding of racism, homophobia etc, let alone mental health issues, it saddens me that we still have to deal with morons like these.
5. Miami Heat (Up 3)
(18-6) Last week: 3-0
A strong period for the Heat, who followed up a tired loss to Boston with 3 straight wins, albeit against a soft schedule (Wiz, Bulls and Hawks). In the Atlanta game, we got to see the Heat's depth at it's best. Duncan Robinson (10 3's!), Kendrick Nunn and Bam Adebayo combined for an even 100 points. Adebayo (30/11/11) and Jimmy Butler (20/18/10) both produced triple doubles in that contest.
Tough match-ups with the Lakers and Mavericks await.
4. Philadelphia 76ers (Up 2)
(18-7) Last week: 3-1
The Sixers are a shock loss to the Wizards from an 8 game winning streak, including impressive performances against the Jazz, Pacers and Raptors.
Philly continue to dismantle teams at Wells Fargo Centre, where they're 13-0. The 5-7 road record is far less appealing, of course.
Did Ben Simmons hit a 3 this week? YES! And if Brett Brown is to be believed, there's much more to follow.
3. Los Angeles Clippers (Steady)
(19-7) Last week: 3-1
The Clips lost their Showdown clash with the Bucks – badly. Coach Doc Rivers said it best, "It was Giannis' birthday, and we searched all over the city to find a gift and we couldn't find one, so we gave him this one. That's all I can come up with because we were awful."
On the positive side of things: I Heart Lou and Trez 4 Eva. The Clippers are scoring 112.1 points per 100 possessions when the dynamite bench pair share the floor. Having a closing option like these two, before even looking at Kawhi Leonard and Paul George is just not fair.
2. Los Angeles Lakers (Steady)
(22-3) Last week: 3-0
Top end NBA teams take care of business at home – that's par for the course. Getting it done away from familiar surrounds is what separates the good from the great. It's no coincidence that the teams with the NBA's two best away records have the two best overall records; and more importantly the top two spots on our Power Rankings. The Lakers only road loss was on opening night against the Clippers, so effectively, they haven't lost 'away' from their home court all season.
1. Milwaukee Bucks (Steady)
(22-3) Last week: 4-0
Just the lazy 16 game winning streak for the Bucks, then.
The Bucks aren't just winning, they're hammering opponents. Their net rating of +12.7 is miles ahead of the competition. The gap to the 2nd placed Lakers is about the same as the gap from the Lakers to the 8th placed Heat.
The Bucks are running away with the #1 seed in the Eastern Conference. Giannis Antetokounmpo might just be running away with the MVP, as well.