Most interesting 2021 NBA free agency signings.
NBA free agency is a most wonderful few days. The constant swirling of rumours; the stories; the innuendo; waiting on the latest Shams/Woj tweet; muting all of the Shams/Woj tweets. It's so exciting! Every year, an interesting signing in free agency becomes a prime player in the playoffs: Bobby Portis and Cam Payne became the latest editions to that illustrious group.
Despite this free agency class lacking a true headliner – Kawhi Leonard is going nowhere – there are still plenty of signings that have caught the collective eye.
Here are some of the most intriguing.
A quick piece of housekeeping: the years and dollars of many of the reported free agency deals are not yet confirmed. For the sake of this article, we're going with the reported figures.
Kemba Walker
New York Knicks
2 years/$16 million
After agreeing to what must be a monster payout following his recent trade to Oklahoma City, the 31 year old Walker was free to sign where ever he pleased. The Bronx native chose to come home.
Whilst Kemba's troublesome knee – he played only 43 of 72 games last season, including zero back-to-backs – prevents this deal from being an absolute home run for the Knicks, signing the four-time All-Star for only a million more than they were paying the offensively challenged Elfrid Payton last season can't be seen as anything but a huge win.
Along with the far more expensive inking of French Olympic hero Evan Fournier, landing Walker solves the Knicks' most glaring problem: putting the ball in the basket. Walker's ability to shoot from deep off the bounce gives the team a weapon they've lacked for many years. Whilst not the most impressive distributor, Walker can do enough to keep Fournier as well as existing stars RJ Barrett and Julius Randle involved. Importantly, given how much those latter two handle the ball, Walker is an outstanding spot up shooter.
What Kemba giveth, however, Kemba taketh away.
The Knicks defense under Tom Thibodeau was outstanding last campaign. The diminutive Walker is a huge downgrade from Payton at that end of the floor, even before factoring in his decreasing mobility. This is surely a bet that Thibs can construct a solid defense, MacGyver style, out of some chewing gum, a paperclip, and a bottle of flat Mountain Dew.
If Kemba can stay on the floor and Thibs can make things work at the defensive end, this is a bargain for New York. If Kemba's knee really is cooked, though? Not so much.
Of course, that contract could come in as a very handy salary matching piece should a certain North West based flamethrower suddenly become available.
Patty Mills
Brooklyn Nets
2 years/$12 million
And then there were none.
In Mills, the last of the torch bearers of #SpursCulture has left he building. What the 32 year old brings to Brooklyn is some serious shot making chops off the bench, both on and away from the ball. Mills brings pesky, though not lock down defense. He also brings championship pedigree to the Nets 2nd unit.
Of course, on this iteration of the Nets, a shot maker is a pure luxury. With their superstar trio and Joe Harris on board, Mills is – at best – the 5th best shooter on the roster. But this move isn't about Mills coming in to play 30 minutes a game. Rather, this move is two fold:
He will allow James Harden and Kyrie Irving more games off throughout the regular season, as well as affording them a few more minutes on the pine in the games they do play. Mills rarely get hurt, having not missed significant time since 2015.
Signing in Brooklyn means not signing for the Los Angeles Lakers – a very possible finals opponent – where he would have fitted hand-in-glove.
Sure, Mills may seem like a needless signing, given the weapons that are on the roster, but with an injury prone core, a man like Mills could prove to be invaluable come the playoffs, where he's most certainly not afraid of the moment.
Rudy Gay
Utah Jazz
2 years/$12 million
On a pre-finals That's Some Cheese pod, this writer mentioned that he saw a little of the 2019 and 2020 Bucks in the Jazz: a brilliant regular season team that didn't have the flexibility of a viable Plan B. And so it proved, as the Los Angeles Clippers stretched out the Jazz's impenetrable drop coverage, leading to open 3's or an open lane. Fortunately for Utah, the Bucks have also provided a blueprint on how to tweak your successful regular season tactics to achieve playoff success.
Rather than abandoning their own drop coverage system, Milwaukee slowly started to mix in some hedging, some blitzing and most importantly a healthy dose of switching into their coverage, both increasing their flexibility and giving the opposition some pause.
One of the keys to that adjustment was the signing of Portis. Utah are clearly hoping that Rudy Gay can be their considerably less crazy version of that man (or at least their version of Nic Batum). The soon to be 35 year old won't be able to provide the same athleticism as Portis, but he is by far the better and more rounded basketballer.
Even at his advanced age, the 16 year veteran gave San Antonio 11.4 points in just over 21 minutes a game last season, hitting 38.1% of his three point attempts. Offensively his ability to hit the catch-and-shoot trey, as well as attack a close out off the bounce, should fit seamlessly into Utah's whirring, three point heavy attack.
However, it's the defensive end of the floor where the success of the Gay signing will be determined. At 6'8", Gay entered the league as a smooth moving small forward, but at 250 pounds, he's as strong as many low post brutes. Gay played 250 possessions at centre according to Cleaning the Glass. In those possessions, San Antonio were better off by 6.5 points per 100 possessions. That number steadily decreased as Gay moved down the positional spectrum.
Gay can't move laterally as well as he used to, but he still provides impactful defence, picking up over a steal and a block per 36 minutes last campaign.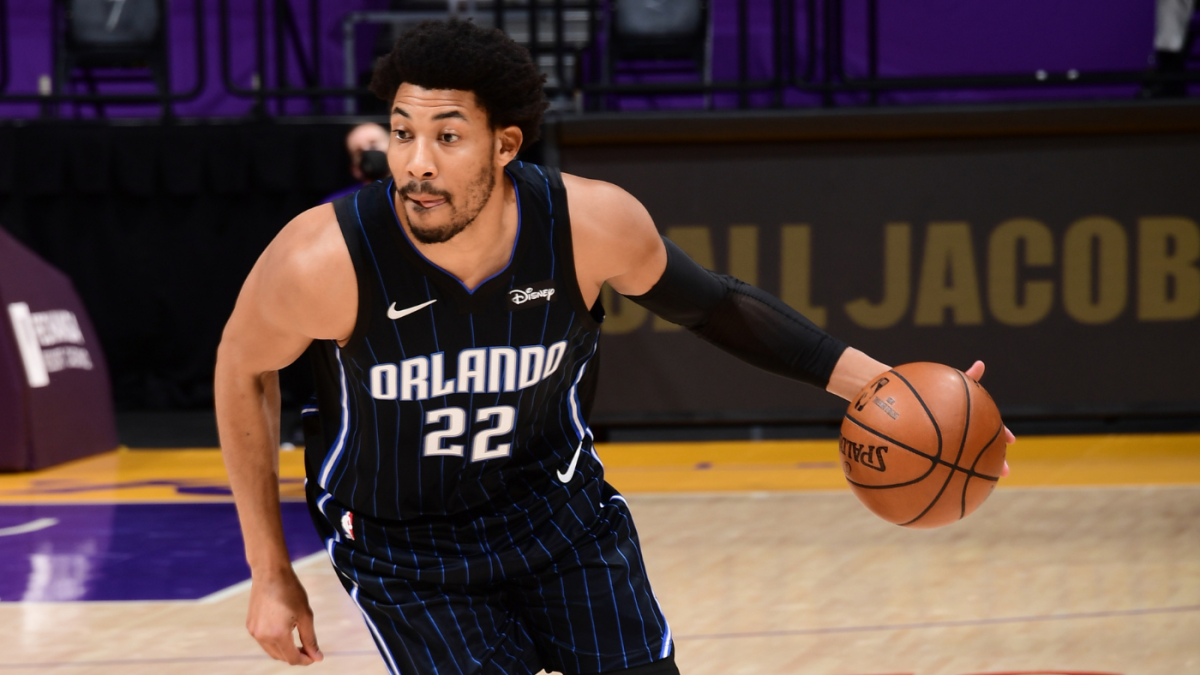 Otto Porter Jr
Golden State Warriors
1 year/$2.4 million
Given their elite, veteran core, the Warriors needed to pick up some veterans after holding on to their picks in the recent entry draft. Porter, signing for a minimum deal after quite clearly failing to live up to his max contract, is a gamble, but a solid value play for Golden State.
Whilst injuries – he's made just 57 appearances since his trade from Washington in early 2019 – have clearly derailed Porter's once promising career, he still has the ability to defend across multiple positions when (if?) healthy and remains an elite shooter, hitting 40.2% of three's over the course of his career. Those are key needs for these Warriors.
Offensively they possess the greatest shooting tandem in the history of the sport in Steph Curry and Klay Thompson though the rest of the roster might struggle to hit water if they fell out of a boat. With Steph understandably drawing all defensive eyes and Klay practically a complete unknown at this point, thanks to two years out of the game with serious leg injures, Porter's ability to catch and shoot will prove important as either a complimentary player to the stars, or as (if you squint really hard) somebody to fill Klay's role on offense.
Defensively, the Warriors have missed Klay just as much, if not more, than they have offensively. Porter, if you'll recall, was the 3rd overall pick back in 2013 based as much on his defensive potential as much as anything else. He's not come close to fulfilling those expectations, to be fair, but remains a versatile and stingy defender, able to switch one through four and in the right match up, onto centres.
It's worth noting that whilst the Warriors are not taking too much of a risk here, given they've signed Porter to a minimum deal, the player himself has reportedly turned down offers at or around the mid level exception to come to the bay. Whether Porter's bet on himself pays off remains to be seen.
DeMar DeRozan
Chicago Bulls
3 years/$85 million
As much as the Bulls are clearly intent on breaking their playoff drought, as evidenced by the mid season trade for Nikola Vucevic and the free agency acquisition of Lonzo Ball, this out of the blue sign-and-trade is a move that doesn't make immediate sense, outside of being an expensive talent grab.
DeRozan – turning 32 today – is undoubtedly a fine player. As his athleticism has ever so slightly dropped away from his high flying days as a Raptor, he's turned himself into quite the outstanding play maker, averaging over six assists per contest in his three years as a Spur. That, aligned with his exemplary mid-range game, has seen him become a very good offensive centrepiece, though by no means an elite level player to build around.
Fortunately for Chicago, they have their main man in Zach Lavine, but given that he needs the ball the thrive, that Vooch needs the ball to flourish, that Lonzo – his improved spot up shooting aside – needs the ball to be at his creative best, what exactly is the point of adding DeRozan to this offense? Even in the half court, where Lavine and Ball struggle, you still have potent option in Vucevic.
Defensively, DeRozan is a sieve who, despite prodigious physical gifts, has never shown a real interest in playing acceptable defense. Lavine has improved in that regard and Vucevic is intelligent, if limited. Ball is a disruptive off ball presence, but isn't an A grade stopper, by any means. Coby White and Lauri Markkanen (assuming he sticks around) are minus defenders. There is an awful lot of pressure on free agency addition Alex Caruso and 2nd year man Patrick Williams to cover their teammates.
The Bulls have traditionally been a club that eschews being a perennial 6th seed, but this signing, aligned with their other off season moves, smacks of respectability as opposed to true contention.